Wow. I'm overwhelmed.
I have decided that I am an intentional blogger. What that means is, I intend to blog about a lot of things, but I don't always find the time and energy to actually write the posts, link to the links, and get everything published. I intend to do these things, but sometimes too much time passes, and I have to let things go so I can post about other, more timely things.
Today, I'm not TOO far behind in letting you know that I am pleased and humbled to have been nominated for two things. First, I was nominated by both the Deputy Headmistress at the
Common Room
and Mother Auma of
CM, Children, and Lots of Grace
for a Thinking Blogger Award. I think they were both very kind to me, and included my name on this list based on things I have written and posted elsewhere, not just on this blog, but I am honored and humbled just the same.
Here are the rules:
1. If, and only if, you get tagged, write a post with links to 5 blogs that make you think.
2. Link to
this post
so that people can easily find the exact origin of the meme.
3. Optional: Proudly display the 'Thinking Blogger Award' with a link to the post that you wrote (there is an alternative silver version if gold doesn't fit your blog).
Many of the bloggers I read regularly, and whom I would nominate for this award, have already been nominated. Thus, I am reserving my right to nominate five bloggers for the moment, with hopeful (intentional) plans to name five some time in the future.
In addition to this Thinking Blogger Award, I was surprised and pleased to be further nominated for the 2006 Homeschool Blog Awards, in the Geographical Blog category. Now, I am a homeschooler, and I homeschool every day, and I have at times written a great deal about homeschooling in other venues. However, I am diffident about this nomination, as I am not sure the occasional mention of homeschooling on my blog qualifies my blog as a "Homeschooling Blog." Nevertheless, if you want to vote for U Krakovianki in this category, you can vote
here
.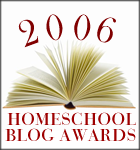 You can view all the categories and vote for your favorites
here
, but there isn't a great deal of time for voting, as all voting must be complete by Friday.
Labels: blogging