Not Leonardo, but...
For some reason, I've been overwhelmed by the urge to make beautiful things. I've had a number of my crochet projects on hold for a while, and I've recently finished one, worked diligently on two more, and also started and completed this experiment.
This was made using a technique called "painted" doily. It's crocheted by holding three strands of sewing thread together. By changing the color of just one strand at a time, you get a nice, gradual shaded effect. I used a size 10 hook for this, and the finished doily is about 8 or 9 inches across.
This is the first time I have ever attempted this technique, and I learned a lot of things, which I am recording here for future reference.
1. Three strands of thread do not behave like one strand. Like siblings, they are close, but do not always get along.
2. Three strands of thread do not unravel very well, and because I was changing one thread each round, it was nearly impossible to think of going back even one round. There are three (
three
) major pattern errors in the above doily, which would have caused me to unravel and re-stitch under ordinary circumstances. I was not able to do that with this.
3.
Therefore
, it is important to choose a very easy, simple pattern for a painted doily. The whole point is to show off the colors, not the intricate stitches. My pattern above was a little too fussy, and I will pick something simpler next time.
4. The open, lacy stitches seem to show off the shading better than the close stitches, which is just as well, because...
5. This is an expensive way to crochet. I bought six colors and spent about six dollars. I used two spools completely, and this was only a small, 16-round pattern. For a larger pattern, you would need a lot more thread, and a lot more money. (Note: my spools only have 100m on them, but I checked some thread from the States and it had 300 yards per spool. It might be cheaper there...but I don't know how much thread costs.)
6. I used bobbins to wind up extra thread, so I could crochet with 2 or 3 strands of the same color. No matter how hard I tried to be generous with the allowance, I ran out of thread and had to cut and tie to get more on the line.
7. Which brings me to this point. There will be 4,216 little ends to weave in, give or take a few dozen.
8. I'm sure I learned something else that I have already forgotten.
9. I will make another painted doily. Someday.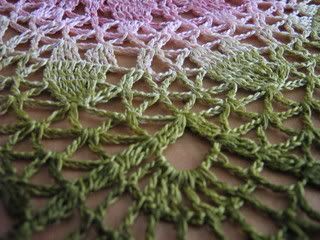 This is a detail, so you can see the color changes a little better.
As I said, it's not a Leonardo DaVinci, but as crochet projects go, this one feels "artistic" to me.