A year of experiments
Last I year, I crocheted
several doilies using sewing thread instead of crochet thread
. Among various considerations, I remarked that it was expensive to crochet that way. However, the variety of colors available in sewing thread vastly exceeds the variety available in crochet thread, so I conceived the idea of holding one strand of sewing thread together with a strand of regular crochet thread (although I came up with the idea on my own, I was not the first person who has ever done this). Using some of the thread left over from an earlier project, I made this.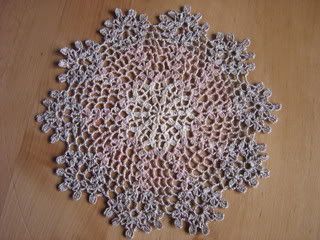 This is the only detail I'm going to show, but I was very pleased with the "frosted" effect, as well as with how much color the sewing thread added. It seems like such a thin bit of nothing, but it shows up well.
I devised a series of experiments involving different combinations of crochet thread and colored thread, and only recently did I complete the last of them. (If you can think of anything I missed, feel free to let me know, and I'll try that, too.) My next project was a single-color doily, using ecru thread (also used in the first doily)and light blue sewing thread. In real life, this doily has a denim effect.
This doily is made with white crochet thread, but uses different shades of sewing thread throughout, and there are no plain white sections.
This project involves using sewing thread on only part of the doily, as an accent, leaving part of it made with plain white crochet thread.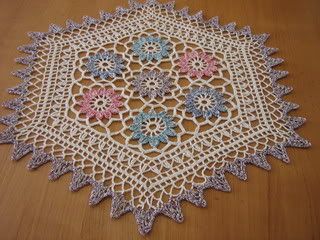 Departing from standard white and ecru crochet thread, I tried a "tone on tone" effect, using darker pink sewing thread on part of a doily made with pale pink croceht thread.
I also used a brighter color of crochet thread with several shades of sewing thread to create very subtle color accents.
And finally, I tried something more dramatic, using black crochet thread and adding a strand of scarlet sewing thread to accent certain parts of the design.
And with that project, I think I can say that my experiments are finished. I've used the technique in other projects, and I will continue to do so. I love having the variety of colors available in sewing thread, and I feel like an artist, painting with thread, when I plan and create my colorful doilies.
And while I'm on the subject, I'm still looking for two more people to join
my "pay it forward" project
. Go ahead, and give me an excuse to make something pretty!